April 2009 (week 1) - We are proud to feature our very FIRST...
Oahu Wedding Association "Member of the Week" :

HAWAII BRIDE & GROOM MAGAZINE (JULIE ARAGAKI)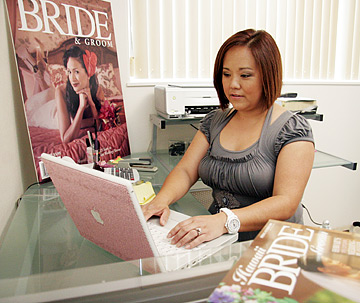 Business Owners: Julie Aragaki & Gavin Kobayashi...

*Been in business: 4 years
*Business specialty: Publication, Marketing and Promotions
*Best Tip for bride/groom/couple: Use Hawaii Bride & Groom as a wedding planner.
*What excites you? Each issue comes out and we get national recognition.
*Spare time- how do you spend it? : our family
*What do YOUR clients have in common?: Wanting our brides to have a stress free day.
*What influenced or inspired you in your decision to do your profession? I graduated with a degree in journalism and Gavin graduated in Graphic Design.

*What are your business hours: We are working 24/7
*Do you have a dog or pets?: Fish and Turtles
*Are you on Facebook? Yes, Julie Aragaki.